Before Dynamic capabilities, two existing paradigms in strategy management were Competitive forces by Michael E. Porter and Resource-based view by Jay Barney. These theories are based on the common premise: to determine the strategic resources that can be exploited by the firm in order to achieve sustainable competitive advantage. They worked well in the era of less intensive innovation when one who has the best team of the most talented engineers and the biggest R&D investment budget greatly guarantees its leading position.
It was the case of Ford in the 20th century when they competed by doing the most R&D in the automotive industry. Internal R&D and patents were valuable strategic assets to Ford, forming core competencies of a leading automotive producer.
Likewise, by acquiring and allocating its key assets in production capacity and management, Kaizen practice has placed Toyota in the position of world's leader in passenger's cars production at the beginning of 21st century.
This has changed. Closed innovation as mentioned-above has been also equipped with open innovation – which is based on a landscape of abundant knowledge, and cooperation in innovation (either through a buy-out, joint venture or partnership).
It is partly due to the dramatic rise in the number and mobility of knowledge workers, making it increasingly difficult for companies to control their proprietary ideas and expertise. This constant exchange of ideas and know-how from individuals to individuals are fueled by not only geographical proximity (clusters, pôles de compétitivité etc.), transport facilitation and but also the multiplication of communication and connectivity.
The rules are now different, urging players to alternate their moves accordingly.
A new "star" is born
In this context, a company cannot rely on building and locking its key assets in-house. The emergence of Dynamic capabilities theories in 1994 by professor David.J Teece, Gary Pisano and Amy Shuen from Harvard University, therefore, has brought new approach towards:
identifying essential competencies to create dynamic competitive advantages and
suggesting a new mindset and reactions towards a changing environment
Defined as the ability to integrate, create and reconfigure existing skills internally or externally to cope with rapid change in the environment, a firm's dynamic capabilities are presented in the following model:

The red flow depicts a linear value chain from the past – from heavy investments and "storage" of capabilities to competitive outcomes (be it product, service or process) and market strategies.
The theory Dynamic capabilities, instead, suggests that firms must pay attention to detect, capture and materialize – or "reconfigure" the flow of newly acquired capabilities and traditional in-house know-how according to the evolution of the market.
Dynamic, therefore, represents the capacity to renew competencies so as to achieve congruence with the changing business environment; while
Capabilities emphasize the key role of strategic management in adapting, integrating and reconfiguring internal and external organizational skills resources and functional competencies to match the requirements of a changing environment.
Dynamic capabilities, in general, reflects an organisation's abilities to achieve new and innovative forms of competitive advantage given its own path dependencies and new market positions.
On the nature of technological knowledge acquirement
The question now is how firms can renew competencies to respond to shifts in the business environment? At which point the definition of dynamic capabilities go beyond a reference to routine competencies of a firm? What is the algorithm to translate environmental factors into a concrete capabilities model?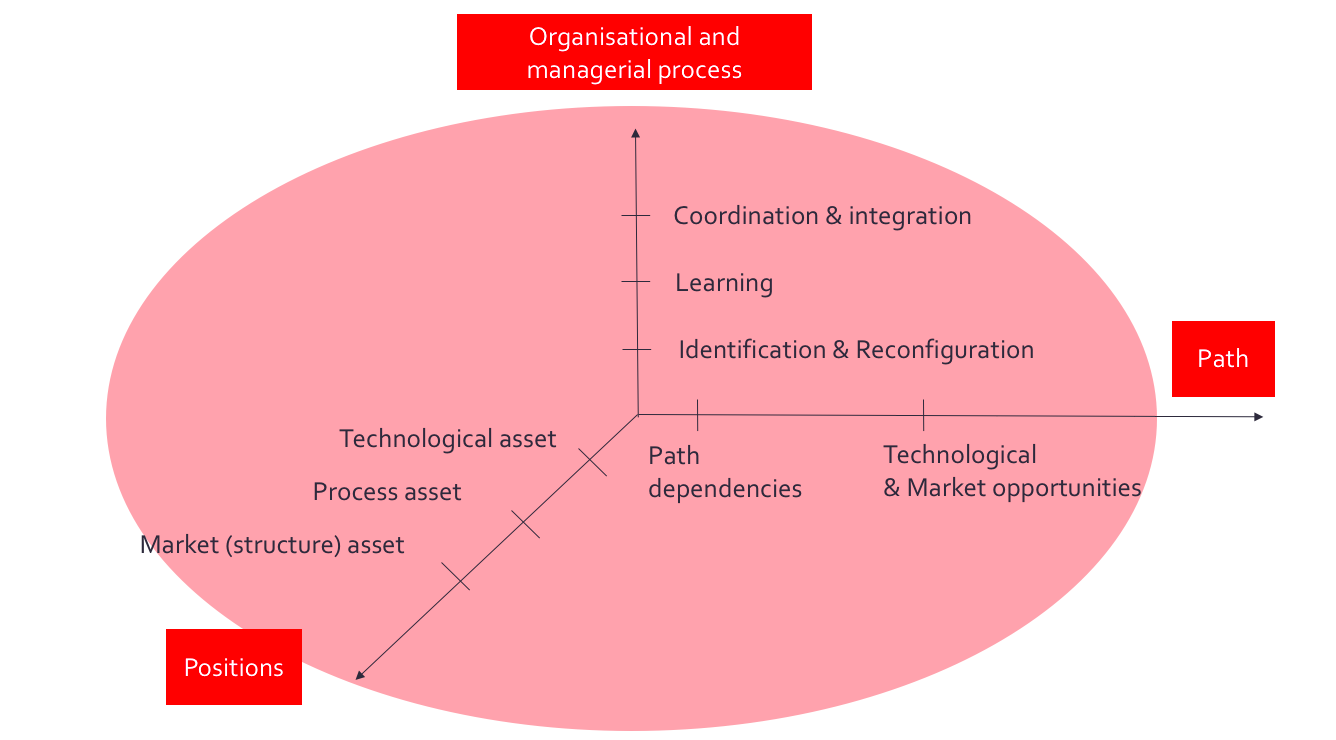 Anything happens in the red zone represents a part of the Dynamic capabilities approach
This three-dimension development of a firm's capabilities includes reconfiguration and transformations in:
organizational and managerial process: a firm's abilities to organize its exploration of valuable internal and external skills and to internalize and integrate new ones into existing traditional expertise,
path: its own path dependencies (the continued use of practice based on historical preference and expertise) and newly-detected technological and market opportunities (that requires new know-how from the firm),
positions: its historical and adapted capabilities in valuable technologies, processes and market know-how (with accordingly complexities)
This reconfiguration and transformation can be included in almost all of firm's activities, from product and process development, technology transfer, manufacturing, intellectual property, human resources, organizational learning and management of R&D etc.
Is Dynamic capabilities theory actionable?
Yes and no, as many managerial theories.
One example is the ambidextrous organization model – the dynamic between exploration and exploitation activities of a firm – who long has been praised by academic scholars. The model requires skilful management of capabilities by integrating internal and external expertise and pivoting when it is time to pivot. Yet many critics have addressed the lack of some concrete algorithm and guidelines to be fully exploitable. It stays as a refresher for top managers, a nice note to keep in mind.
The theory of Dynamic Capabilities goes further by proposing 4 categories of capability strategy choice for firms to pivot: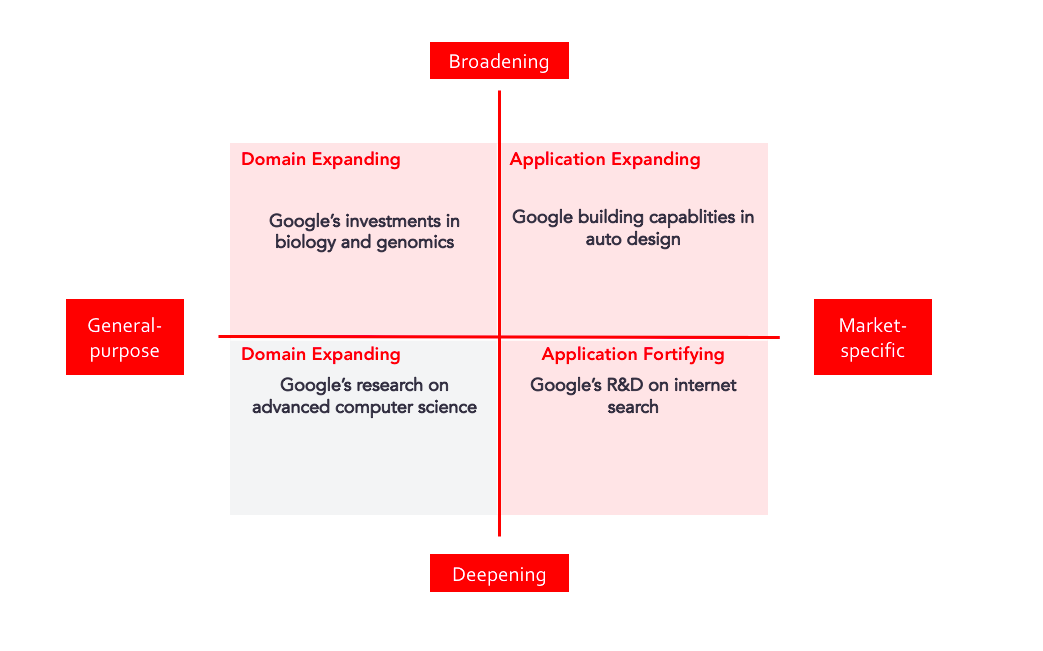 In this example, if Google chose to invest in internet search or advanced computer science, the firm stays within the realm of its expertise (deepening strategy). However, if it chose to invest in automotive design or in biology and genomics – which is a whole science branch, Google then tried to acquire knowledge way beyond its know-how.
However, in reality, the realization of these choices faces bottlenecks, in which the theory hasn't solved such as:
which

mechanisms

to integrate new capabilities into their "stocks" of know-how efficiently?
how to align key stakeholders with different interested and constraints on resources and organization on the same pivot strategy?
at which point should a firm

decide

that instead of constantly adjusting to changing environments, it's time to adapt the environment to its own capabilities and competencies? etc.
Conclusion
The biggest takeaway from the theory is: to achieve sustainable competitive advantages, firms must stay attuned to changes. This includes but not limited to: customer preference, competitive landscape, emerging technologies, government regulations etc.
One efficient way to do it is to continuously detecting, seizing and reconfiguring new key capabilities and integrate them into the stock of know-how. This mechanism is a part of what we call Innovation Machine at Stim.
We believe in the premise of Dynamic Capabilities, but go on tackling the unsolved steps such as:
integration mechanism of new knowledge into existing stocks of know-how,
alignment of top managers on a strategic pivot,
and creation of potential disruption area for firms
As competitive advantages are being challenged with the fast pace of change, firms are advised to muscle up their own innovation capabilities that allow them to create, transform and reinvent their business.
***
Want to learn more about our approach?
If you like this article, share it on your social network!